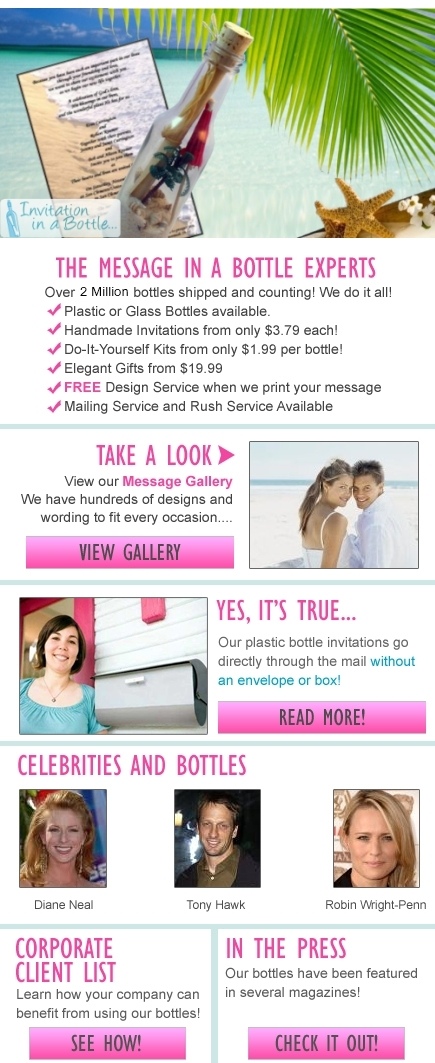 INVITATION IN A BOTTLE:
The Message In A Bottle Experts Since 2003
✓ Over 1.5 Million Bottles shipped and counting
✓ We have expertise in creating perfect bottle invitations or messages for weddings, birthdays, sweet sixteen parties, bat/bar mitzvah, baby showers, kids parties Or
✓ We can design you an elegant message in a bottle for anything from marriage proposals to apology. Love messages, valentine messages, anniversary messages and many more
✓ You have the choice of selecting do it yourself kits, fully assembled bottles or we can handle it all including mailing.
✓ Great selection of bottle invitation designs offered in both Glass bottles and Plastic bottles
✓ Everything is customizable. You can choose the message/invitation wording, design, font and what goes inside the box.
✓ Free design service when we print your message. We will work with you to make the design exactly the way you want it though our enhanced electronic proofing process.

Invitation in a Bottle is simply the best
The invitation is the first thing your guests will see. It sets the first impression for your occasion or event. There are many ways to go about choosing invitations. Now for almost a decade, InvitationInABottle.com has been helping party planners, brides and grooms to choose the perfect invitation for their occasion.
✓Affordable message in a bottle invitations starting from $1.79
✓Impress guests in a unique, memorable way
✓Set the theme for your event starting from the invitation. For example Ocean Shores Bottle bottle for beach wedding or Show Me The Money for casino party

*Monthly Random Drawing, Other Terms Apply.
As Seen On